- Collin Smith, AEG Fellow
On December 13, AEG convened its final Stakeholder Breakfast of 2018 in Washington, DC. This breakfast focused on Mobility & Transportation as they relate to DC's clean energy goals; the event featured a diverse set of speakers and stakeholder participants from different parts of DC's energy and transportation sectors, including:
Natalia Mathura, Manager, Utility of the Future, Pepco

Rachel Healy, Sustainability Director, Washington Metropolitan Area Transit Authority

Erik Belmont, Program Analyst, District Department of Transportation

Tom Madrecki, Director of Urban Innovation and Mobility, UPS
H.G. Chissell, Founder and CEO of Advanced Energy Group, asked speakers to lead the discussion which would support actionable work for the stakeholder group. The event's speakers gave presentations outlining their answer to the question, "What is the critical challenge I focus on regarding Mobility & Transportation related to Washington DC's clean energy goals?"
Natalia Mathura, Manager for Pepco's Utility of the Future, kicked off the presentations with an overview of DC's transportation system. Currently, transportation accounts for 20% of DC's carbon emissions. Local air pollution from transportation is significant and disproportionately affects low-income communities. However, Mathura believes this could change as Mayor Bowser is expected to sign legislation soon that would require all public vehicles and light-duty vehicles licensed in DC to transition to 100% emission-free by 2045. Electric vehicles would play a big role in this transition, which would require significant investment in new charging infrastructure for the city. According to Mathura, a transition of this scale would require 14-times more Level 2 charging stations (and twice as many fast charging stations) as Pepco had proposed in its most recent filing. Mathura ended her presentation urging the audience to consider the means to meet this goal as the critical challenge that the group should collectively address over the next year.
Rachel Healy, Sustainability Director at WMATA, then emphasized the importance of public transportation in DC's future transport sector. She stressed that the Metro and other public transport options are still the most proven ways to reduce carbon emissions from the sector. She urged the audience to consider how the District could reinforce the Metro's role as the city's low-carbon transportation option.
These views on public transportation were echoed by Erik Belmont, Program Analyst for DC Circulator programs at the District Department of Transportation. Belmont described the Circulator's plans to add another 18 electric buses to its fleet by 2021, adding to the 14 new electric buses they deployed in 2018. Although electric bus deployment has been positive so far, developing new facilities for the next wave of diesel replacements would not be a straightforward task given space constraints in DC. Belmont offered this as his challenge to the group – how to ensure DC develops the capacity to transition all of the Circulator's buses to electric in the near future.
Finally, Tom Madrecki, Director of Urban Innovation and Mobility at UPS, offered UPS' perspective. Madrecki was optimistic that e-commerce could be a force to lower emissions and improve efficiency in the transportation sector by allowing products to be delivered to customers through optimized delivery routes instead of individual customer trips to the store. To help realize these benefits, UPS has been working with cities to develop new best practices for goods movement in urban settings. Madrecki emphasized that although many of these best practices had commonalities – such as integrated policy approaches or an attempt to "right-size" major infrastructure projects – there was no silver bullet for these challenges; each city needs to develop its own customized solutions. However, developing a system that would deliver goods safely, efficiently, economically, and sustainably is what Madrecki considers to be the critical Mobility & Transportation challenge in DC.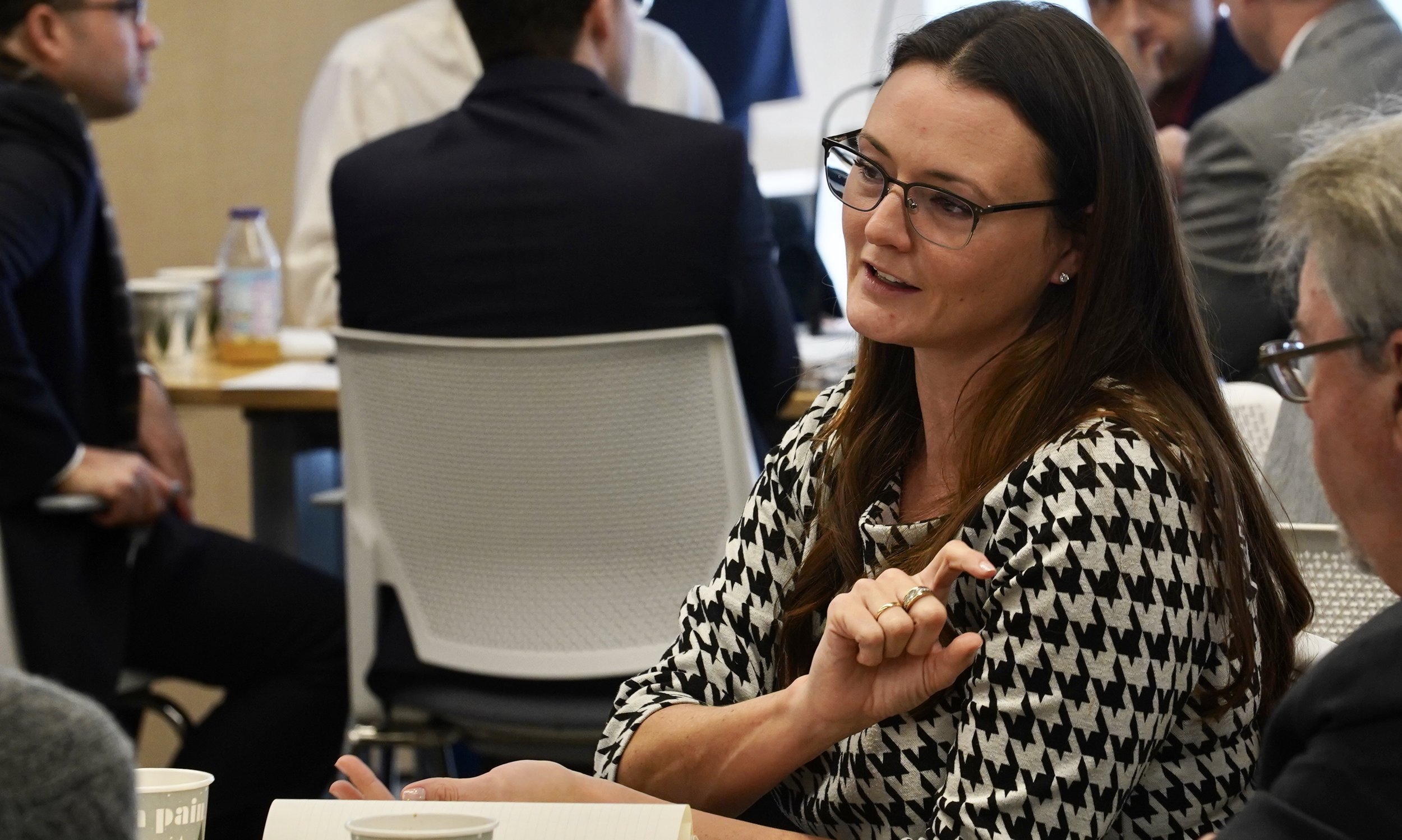 After a short break, AEG stakeholders reconvened to discuss which challenge proposed by the speakers was most salient. After an initial round of voting, it was determined that Mathura and Belmont's challenges were the two front-runners. Edward Yim from the District Department of Energy and Environment (DOEE) appreciated Belmont's focus on public transportation and the deployment of electric buses. According to Yim, the primary modes of transportation in a sustainable transport system should be low-carbon options like walking, biking, and public transit; private vehicle trips should only be used to fill in what was left. However, Michael Kurzeja, Founder and CEO at EZ-EV (now a subsidiary of Exelon) pointed out that Mathura's challenge, increased installation of charging infrastructure, was particularly important because DC's success in these efforts could be replicable in other cities. After more discussion, it was determined that Mathura's challenge would be the one the group would focus on for the remainder of the event.
The assembled stakeholders were then tasked with identifying a deliverable that could be completed in the next 12 months. The 50 participants were already seated at eight roundtables; these groups became their teams for brainstorming a feasible and impactful 12-month deliverable. After about 20 minutes of internal team discussions, each team submitted their proposed solution for a vote.
After a close round of voting, Team 5 emerged as the winner with the following plan:
Develop a replicable pilot stakeholder engagement process by which cities could identify public-private partnerships to meet DC's clean energy requirements.
This 12-month goal was broken into a series of shorter tasks and deliverables:
3 months: Develop a stakeholder map and conduct a stakeholder survey to gather data

6 months: Identify concrete goals and metrics to determine success

9 months: Identify gaps in analysis

12 months: Define engagement outcomes and pilot structure
Before the event ended, several members from Team 5 and the other assembled stakeholders signed up to form a task force that would be responsible for seeing that these deliverables were completed. Progress on these goals will be reported at next year's Q4 event on the same topic.
Next quarter's Washington Advanced Energy Stakeholder Breakfast on Resiliency, Critical Infrastructure, and Microgrids will be held March 7, 2019. More details can be found here.
Advanced Energy Group is a stakeholder member-supported organization committed to developing and delivering advanced energy policies and solutions in key cities. Stakeholder sessions are by invitation only. For details of our programming please visit:
Event Calendar | Podcasts | Videos | LinkedIn | Twitter